Company Information
Shadywood Quilts has been in business since 2001 (OMG - over 20 years- when did I get so old?). In 2006 we expanded our business to add T-Shirt Quilts to our lineup and changed our name to reflect the change. After hubby decided to retire for a SECOND time, we sold the T-Shirt Quilt part of the business at the end of 2019. Now, after retiring (again) to Florida; I am back to just doing longarm quilt services for others. Still doing a few t-shirt quilts, but nothing like we were doing in Houston.
We specialize in long arm quilting services that save you time! We treat your quilt as if it were our own, using quality materials, attention to detail and proficient stitching techniques. We will finish your quilts in a professional, timely manner...so they're ready for gift giving, or your own personal enjoyment! Our usual turnaround time is 2-3 weeks, but can take a bit long during our peak times (graduation and Christmas holidays - OR if we are being retired folks and traveling!!!)

It's as simple as dropping your quilt top off at the shop or mailing in your quilt top, selecting your quilting pattern and thread. We will take care of the rest for you. We can do as little or as much as YOU want.
What do you want to create today? Contact us today for more information!
** DBA is Shadywood Quilts
About Betty
I am a member of several professional organizations and remain current with the latest techniques and designs by attending Quilt Market and several instructional courses each year. I take pride in the high quality of the quilts I make. In addition to my love of quilting, I love T-Shirts, and enjoy seeing each new collection that comes through the door!
Memberships and Associations:
Modern Quilt Guild
IMQA - International Machine Quilters Association
FML Longarm Association * **
WHQG - West Houston Quilt Guild ***
QGGH - Quilt Guild of Greater Houston ***
Tri County Quilt Guild * ***
NQA - National Quilting Association *** (now defunct)
QGOTV - Quilt Guild of The Villages
* Charter Member
** Board member
*** Past Board Member
The Shop
They say that if you do what you love, you nev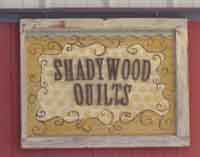 er work a day in your life. I am fortunate to have a great working area to do what I love to do!
In September 2021, we moved to our new location in Florida. The new shop is about the same size as our old location in Cypress TX.
Our Gammill Longarm is enhanced with the Intelliquilter computer and enables us to give you the highest quality quilting available.